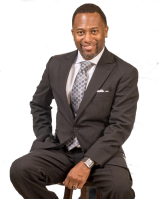 Dr. Dwight Demone Townsend is the anointed pastor of the Longley Baptist Church of Little Rock, Arkansas. He was born and raised in a rough neighborhood in East Little Rock, Arkansas. He and his eleven brothers and sisters had to overcome many obstacles and hardships. Despite the adversities that he encountered, Pastor Townsend did not ignore the calling on his life. He accepted his ministry calling at the age of 18. Within a year he was licensed and ordained. In 1996 he was called to serve as pastor of the Macedonia Baptist Church in Little Rock, Arkansas. Four years later, he went on to serve as pastor of Greater Pilgrim Rest Baptist Church in Van Buren, Arkansas. Both congregations experienced phenomenal growth, numerically, financially and most importantly spiritually.
Pastor Townsend is a 1993 graduate of Sylvan Hills High School in Sherwood, Arkansas. He holds an Associate, Bachelors and Masters Degrees in Theology from Slidell Baptist Seminary. As well as a Masters of Theology and Doctor of Ministry from Andersonville Theological Seminary.
Pastor Townsend is a gifted preacher, teacher and dedicated community servant. He is actively involved in the Union District Baptist Association, where he serves as 2nd Vice Moderator. He is president of the Young Pastors & Ministers Division of the Consolidated Missionary Baptist State Convention of Arkansas and was elected as Trustee Board member in 2011. He is the past Moderator of the Antioch Consolidated Baptist Association.
In addition to his district work he also serves his community as he has been appointed to the AR State Board of Health by Gov. Mike Beebe. He has served as partnering pastor of the Four Church Fellowship, a local fellowship of churches purposed to strengthening the body of Christ through worship and educational services.
Pastor Townsend came to Longley in May 2005. Since coming to Longley the church has experienced phenomenal growth in the areas of Ministry, Evangelism, Education as well as Finances. Physically Longley has undergone many improvements to its structure as well. Longley has grown from a membership of 900 to over 2700 to the glory of God and is vastly becoming a beacon light in the Southwest Little Rock area. Pastor Townsend has a heart for reaching the lost and strengthening the saved through expository preaching and intensive bible study classes. He is affectionately referred to as, "The Quiet Storm", by his colleagues. In 2009 Pastor Townsend recorded his first CD and uses his gift of song to further his call to the ministry.
Pastor Townsend is the proud father of two adult children: Dacimber and D. J.